What is a High Reliability Organization?
High reliability organizations are organizations that operate in complex, high-hazard environments for extended periods without serious accidents or catastrophic failures. This concept is particularly applicable to health care given that failures can be life-threatening. While high reliability is often thought of as effective standardization of processes, an HRO is better defined as a condition of persistent mindfulness within an organization.
Table of Contents
Patients and their loved ones expect medical care they can rely on. As a High Reliability Organization (HRO), prioritizing a safe and error-free environment builds trust between medical providers and their patients. Establishing rapport as an HRO is essential for the success of your team and those they care for.
Successful HROs have buy-in from every member of the team. Attention to detail, diligent followup on issues and consistent teamwork are just a few of the keys to success. But what truly makes an HRO? There are five key traits of a successful HRO.1
Five Traits of a High Reliability Organization
Sensitivity to Operations
This means each team member involved in patient care needs to be aware of what is going on in the organization as a whole. You can think of this as big-picture understanding or situational awareness.2
Reluctance to Simplify
Rather than oversimplifying issues, individuals at HROs dig deeper for the solutions to problems by exploring "work processes and how and why things succeed or fail in their environment."2 While this approach is more labor-intensive, it prevents issues down the road and lightens the workload when appropriate solutions are discovered and applied.
Preoccupation with Failure
This may seem like a backward approach, but focusing on failures actually helps create more successes. By focusing on what could go wrong, you can prevent those errors from ever happening. Near misses or Good Catches should be celebrated for the prevention of error.
Deference to the Expertise
It's important to understand that you can't be an expert on everything. By finding the person who is, you can help create a safer, error-free environment. It's also important to let employees become experts in their own areas. Seniority shouldn't matter, and everyone should be "encouraged to voice their concerns, ideas and input — regardless of hierarchy."1
Commitment to Resiliency
When errors do occur, it is essential to move forward with a relentless determination to problem solve and improve. Being on the lookout for ways to improve means using better evaluation tools (such as a

Hospital Good Catch Program

) and providing opportunities for skill development.
When these five traits are woven into organizational culture and practices, your health care facility will be on the fast track to becoming an HRO. But how do you get there? Becoming an HRO takes commitment to a wide variety of strategies and frameworks, but it is attainable for your organization.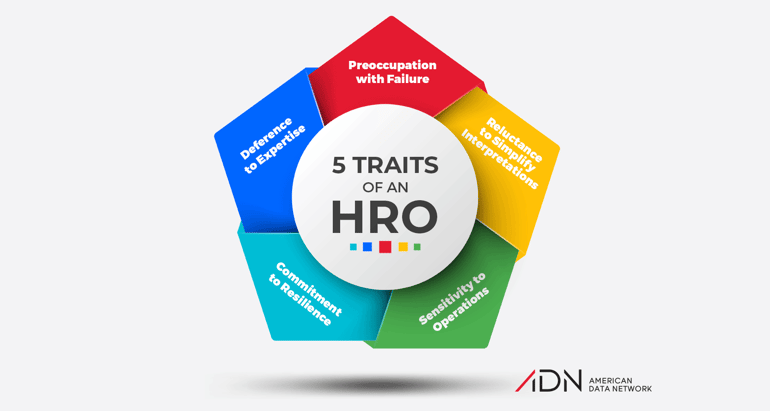 The Best HRO Implementation Frameworks to Follow
Focusing your efforts on the most effective frameworks and implementation strategies can reduce wasted time and resources.
An article published in the September 2020 issue of Journal of Patient Safety, "Implementing High-Reliability Organization Principles Into Practice: A Rapid Evidence Review," sought to synthesize all the HRO frameworks, metrics, and implementation effects to help inform health systems' efforts toward becoming HROs. The authors reviewed bibliographic databases from 2010 to 2019, identifying 23 key articles detailing 8 different frameworks.
Their analysis revealed multiple notable findings about 9 different healthcare facilities who implemented HRO initiatives:
Improvements in outcomes were maintained for upward of 9 years for 4 of the facilities.
Serious Safety Events (SSEs) decreased between 55%-83% 2 years after initiative implementation in the same 4 facilities.
The authors pinpointed 5 key strategies common across the frameworks identified by their research:
Developing leadership,
Supporting a culture of safety,
Providing training and learning opportunities for providers and staff,
Building and using data systems to measure progress (the most emphasized across all frameworks), and
Implementing quality improvement interventions to address specific patient safety issues.7
Top 2 Frameworks
Of the 8 frameworks analyzed, 2 stood out because they "involved extensive stakeholder involvement in their development and were the most comprehensive, broadly applicable, and sufficiently detailed to inform implementation."7
The Joint Commission's High Reliability Health Care Maturity Model (HRHCM)


Based on its extensive healthcare experience and through studying the features of industries that have achieved high reliability, The Joint Commission® constructed a framework that health care organizations can use to accelerate their progress toward the ultimate goal of zero harm. The framework is organized around three major domains of change: 1) Leadership committed to the goal of zero harm, 2) an organizational safety culture where all staff can speak up about things that would negatively impact the organization, and 3) an empowered workforce that employs Robust Process Improvement (RPI) tools to address the improvement opportunities they find and drive significant and lasting change.

Institute for Healthcare Improvement's Framework for Safe, Reliable and Effective Care


A group of subject-matter experts at IHI and Safe & Reliable Healthcare (SRH) have collaborated over 15 years to develop the Framework for Safe, Reliable, and Effective Care. Made up of two foundational domains — culture and the learning system — along with nine interrelated components, with patients and families at the core, the framework brings together succinctly and in one place all the strategic, clinical, and operational concepts that are critical to achieving safe, reliable, and effective care.
Strategies to Become an HRO from a 3-Year Case Study at Truman VA Medical Center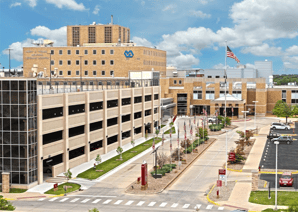 Truman VA Medical Center in Columbia, Missouri worked for three years, beginning in 2016, to become a HRO. They improved patient outcomes, increased error reporting, and their process has since been developed into a list of 10 essential strategies for other organizations who want to replicate their results.
"The primary benefit of improving patient safety culture is to improve the transparency in reporting patient safety events, the heightened sophistication for examining the root cause of events that occur, the creation of meaningful action plans to mitigate or prevent such risk in the future, and an annual analysis of processes for standardization associated with ongoing training and repeated cycles for continuous improvement."3
The 10 strategies are:3
A baseline and yearly assessment/patient safety site visit.

Patient safety culture assessment.

Did you know? American Data Network (ADN) offers this service! Lighten your internal workload and let ADN build the survey as well as manage distribution, collect responses and prepare a professional analytics report. Contact us if you'd like more information.

Annual frontline staff Root Cause Analysis (RCA) training.

FREE RESOURCES:

Check out these guides from the VHA National Center for Patient Safety:

Leadership walk-arounds.
Monthly patient safety forum.
Annual assessment of infrastructure and processes for standardization.

Just Culture training

(applying a risk-based approach rather than an outcome or rules-based approach).

Learn more about Just Culture training in this resource from the American College of Healthcare Executives.

Clinical team training (CTT) for all units.
Unit-based improvement project implementation and monitoring.
CTT simulation education.
Ten strategies may seem like a lot to put into practice. But tackling them one at a time will put your organization on the path to success. And in reality, "there is no recipe for transforming an organization into an HRO. Put another way, there is no easy path to achieving safe and reliable performance."4
The steps to implementing strategies and a framework that move your organization in the right direction require leadership buy-in as they commit to the goal of zero patient harm.5 Get leaders on board by demonstrating how much profit can be saved by preventing a certain number of different types of adverse events. The Patient Safety ROI Calculator can help you evaluate the financial impact of various initiatives, down to the dollar.
The entire organization must also support a culture of safety — with "accountability, teamwork and communication"5 as essential elements of this support.
Measurement Tools and Metrics to Track on the Path to Becoming an HRO
As your organization implements the 10 strategies listed above, it's crucial to monitor growth by tracking various metrics and utilizing several measurement tools. Building and using data systems to measure progress helps develop solutions to problems at hand.5 Your organization can gauge success by gathering baseline metrics before beginning any HRO-related initiatives, and then measure progress throughout the following months and years.
Measurement Tools
There are several ways to measure change, including assessments and surveys. Maintaining a constant awareness of progress (or lack thereof) can help promote a culture of safety. No matter what tools you choose, consistency is key. Consider the following tools.
The Joint Commission's Oro 2.0 High Reliability Assessment Tool5
Oro 2.0 is an online organizational assessment for executive leadership teams that identifies your organization's current high reliability maturity level. The assessment helps senior leaders understand where they stand and paves a path towards zero harm.
Culture of Safety Self-Assessment Survey and Automated Analytics Report Tool8
The American College of Healthcare Executives also developed a self-assessment tool for leadership teams to assist organizations in their quest to develop a culture of safety. The survey is organized into six leadership domains: (1) Establish a compelling vision; (2) Build trust, respect, and inclusion; (3) Select, develop, and engage your Board; (4) Prioritize safety in the selection and development of leaders; (5) Lead and reward a just culture; and (6) Establish organizational behavior expectations. ADN packaged this self-assessment in an easy-to-use survey your organization can use as well as built an Analytics Report that is automatically generated as you receive survey responses.
AHRQ Patient Safety Culture (SOPS) Survey5
Providers and other staff can assess patient safety culture in their organization using this survey. Consider using a combination of an annual or biennial survey alongside a more frequent mini-culture survey. ADN offers an easy-to-use, HIPAA-compliant survey and a comprehensive reports package.
Mini Patient Safety Culture "Pulse Check" Survey and Automated Analytics Report Tool3
This 15-question patient safety culture survey developed by the Veterans Health Administration (VHA) National Center for Patient Safety can be used in between your annual or biennial AHRQ SOPS Survey to provide a pulse check on your progress.
Metrics to Track
Outcomes for Mortality and Complication Rates
Continuous measurement and evaluation of outcome measures are integral to any initiative, including comparisons to baseline performance to determine if improvements are made and whether headway is attributable to the newly implemented strategies. In-hospital Mortality and Complication rates are commonly-used, nationally-prioritized outcome measures to help assess the impact on the quality and safety of care.
Number of Patient Safety Events Reported3
Rather than a goal of less events reported, look for an increase in reporting that represents an improvement in communication and culture surrounding patient safety awareness. The Good Catch / Near Miss Campaign Toolkit can help your organization meet goals in this area.
Serious Safety Event Rate (SSER)3
Track adverse patient safety events involving severe harm or death. This rate should decrease due to events being caught before they occur, thus contributing to the goal of increasing the number of patient safety events reported. However, literature does suggest that if your facility already has a low SSER, this metric may be a less accurate indicator of HRO progress, meaning your facility's patient safety may be improving without any meaningful movement seen in the SSER -- all the more reason to be tracking multiple data points to measure progress.
High-reliability teams are committed to being mindfully attentive and actionable toward preventing errors and increasing safety.6 Through tracking the metrics above and taking steps to work toward each of the strategies outlined in this article, your organization will be on the path to becoming an HRO.

About American Data Network
For more than 25 years, American Data Network (ADN), which is also the parent company to its Patient Safety Organization (ADNPSO), has worked with large data sets from various sources, aggregating and mining data to identify patterns, trends, and priorities within the clinical, financial, quality and patient safety arenas. ADN developed the Quality Assurance Communication (QAC) application, with which hospitals, clinics, rehabs, and other providers record and manage patient safety events. By entering events into ADN's QAC application and submitting them to ADNPSO, information is federally protected and thereby privileged and confidential. These protections provide a safe harbor to learn from mistakes and improve patient safety.
Sources: