As many facilities are evaluating how to utilize scarce clinical resources, reallocating data abstraction staff to quality improvement and outsourcing abstraction positions can shave critical budget dollars. American Data Network's "Outsourcing Cost-Benefit Analysis Template" can help you determine the true cost of your in-house data abstraction process. In under three minutes, this tool will show you and your leadership team total savings and where they will come from using real data and expert resources.
The first step to creating an accurate Outsourcing Cost-Benefit Analysis is determining your true costs of operating the process in-house. Insourced data abstraction teams carry costs beyond salaries. Data shows the true cost per employee that includes benefits/taxes is 125% - 140% of the salary1. Additionally, many facilities overlook the cost of the quality manager's time and expertise as well as the expenses associated with recruiting, turnover, and training.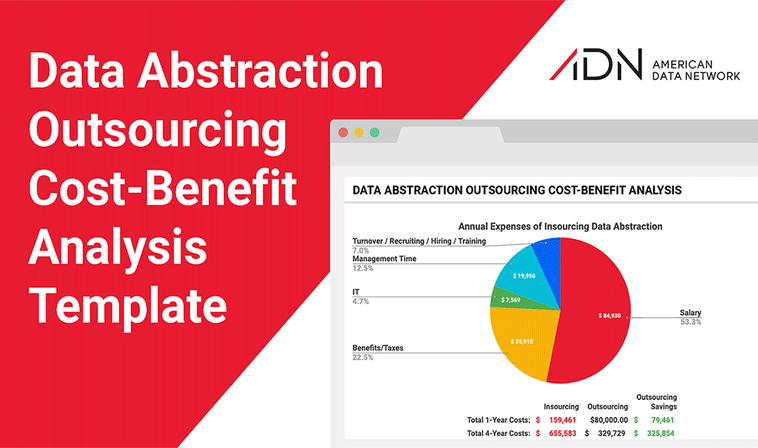 As the average annual hospital turnover rate is 17.8%, this template projects four years to accurately capture likely costs before an abstractor retires or unexpectedly leaves. Cumulative totals factor in hard costs such as salaries, benefits, taxes, and IT costs, along with soft costs like management time and costs associated with turnover, hiring, and training. You can even enter in other overhead costs unique to your facility. There are always unknown employee costs and you can manually include those as well. Outsourcing does not have any unknown costs – budgeting is reliable and predictable.
The first sheet in the template walks you through how to use the tool and customize it for your in-house data abstraction team. The tool also takes into account the state your facility is in and uses regional-specific values for employee benefits from the Bureau of Labor Statistics. You will be able to tailor the calculations to the number of in-house data abstractors on your team and their specific salaries along with the amount of time spent managing the department and the associated management costs thereof.
This template supplies you with a table view and a graphical view of your four-year costs and potential savings, which makes sharing the findings with leadership simple and straightforward.
ADN's Insourcing Cost-Benefit Analysis Template will further enable your pursuit of making a data-driven decision on whether outsourcing is right for your facility. For more information, contact Susan Allen at

sallen@americandatanetwork.com.
Resources:
2020 National Health Care Retention & RN Staffing Report - Nursing Solutions Inc.
About American Data Network
For more than 25 years, American Data Network (ADN), which is also the parent company to its Patient Safety Organization (ADNPSO), has worked with large data sets from various sources, aggregating and mining data to identify patterns, trends, and priorities within the clinical, financial, quality and patient safety arenas. ADN developed the Quality Assurance Communication (QAC) application, with which hospitals, clinics, rehabs, and other providers record and manage patient safety events. By entering events into ADN's QAC application and submitting them to ADNPSO, information is federally protected and thereby privileged and confidential. These protections provide a safe harbor to learn from mistakes and improve patient safety.