What is a Near Miss or Good Catch?
A Near Miss or Good Catch is a patient safety event that did not reach the patient while an incident is an event that reached the patient, regardless of harm. Experts view near misses as possibly the best predictors we have of medical error; yet, these are markedly underreported.
Introduction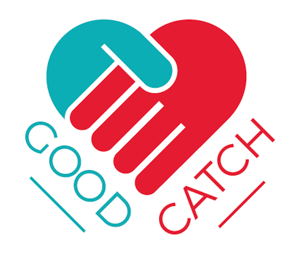 Literature supports near miss analysis as a productive exercise that can advance safety culture because the focus is on identifying fractured systems or processes before patients are affected. Near misses carry fewer emotional barriers and less judgement or bias; so, they can be easier for staff to talk about than incidents. These close calls are free lessons that offer valuable revelations of weaknesses AND strengths. They can teach teams where they need to improve and offer insight as to how to go about it.
ADN PSO saw near misses as an impetus for building trust among teams and ultimately a catalyst for decreasing adverse events. If every preventable event is preceded by a string of related near misses, as research suggests, then, as near miss reports increase, adverse events should decrease.
Launching Our Campaign
Review of ADN PSO data revealed that Near Misses represented only 6.8% of all 2016 events submitted to ADN PSO, confirming a representation significantly less than Unsafe Conditions or Incidents. With 81% of the facilities exceeding baseline, opportunities for learning and growth were ample.
Turning that situation around was challenging, but the results were well worth the effort.
Forty-five hospitals, dispersed across the state of Arkansas, participated in ADN PSO's Good Catch campaign.
"Hospitals achieved 95% of the campaign goal and saw a 47% increase in near miss reporting over baseline."
Overall, these hospitals achieved 95% of the campaign goal and saw a 47% increase in near miss reporting over baseline. Together, participating facilities reported an average of 246 more near misses per MONTH during the 2017 campaign.
Campaign Outcomes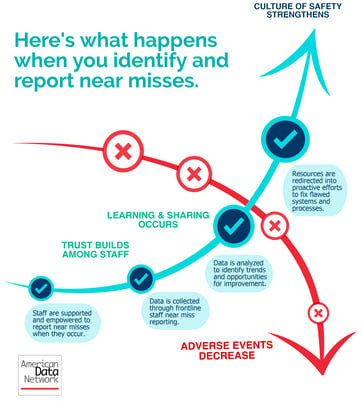 Revitalized Patient Safety Committees: Interdisciplinary teams dissected near misses and swiftly addressed patient safety issues as identified. Bringing staff from multiple areas into the conversation meant more players had opportunity to offer expertise in developing strategies to reduce risk.
Reimagined Reporting Tools: Not every hospital was already tracking near misses, but they embraced the opportunity to rethink reporting needs, work toward electronic methods, and design forms to use in the interim. Some newly created paper forms invited staff input that was used to develop protocol changes resulting from their discoveries.
Empowered Staff: Frontline staff, physicians, and non-clinical staff spoke up and asked questions with confidence and became more fully invested in the achievement of organizational safety goals.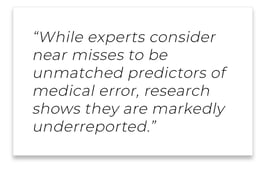 Shared Learning: Facilities disseminated lessons learned not only departmentally but organization-wide by incorporation into employee trainings spotlighting extraordinary examples of situational awareness and error prevention.
Data-Driven Improvement Strategies: Teams acted in a timely manner on issues revealed through near miss analysis.
Modifications in one facility looked like this:
Instances of hypercoagulation fell to zero after implementing a HARD STOP Policy requiring a baseline INR on all patients prior to receiving a Coumadin dose.
Errors associated with inconsistent practices in drawing Vancomycin Troughs were eliminated by providing Pharmacy-led education to nursing and lab staff.
After discovering an EHR issue, which made it easy to overlook Respiratory Therapy orders, the Patient Safety Committee teamed with the IT Department to program an auto notification alerting RT staff of new orders.
Another facility reported similar success stories:
Staff restructured lines of communication after identifying DNR Orders as problematic when patients were discharged to Nursing Home settings.

The hospital discovered that an outsourced Pharmacy formulary was contributing to the entry of incorrect medication orders by night staff.

Education and heightened awareness during chart review

reduced the potential for duplication errors.
What We Learned: KEY CAMPAIGN INSIGHTS
Hospitals of all sizes can run a highly successful near miss campaign.
Participating facilities ranged from those tied to large, urban based systems to significantly smaller, rural hospitals. One Critical Access Hospital improved 126% over baseline and nominated a standout physician who was recognized with a quarterly Good Catch Award.

Leadership engagement is essential if organizational culture change is the overarching goal.
When you keep data associated with near miss reporting in front of the C-suite, the numbers are hard to ignore. In turn, staff will respond when they see leadership embracing Just Culture and opportunities to expose vulnerabilities and make improvements.
Every minute spent educating and encouraging staff is time well spent.
Staff need reassurance that reporting a near miss does not mean someone is going to be in trouble. Some facilities discovered that near misses had been happening all along but staff were trying to fix the issues on their own without sharing lessons learned in order to prevent recurrence. Compliance happens as staff begin to understand that you can't fix what you don't know is broken.
Input leads to buy in, and feedback is fulfilling.
While rewards and incentives provide encouragement, consistent communication is the greater motivator. Pulling staff into the conversation, listening to what they say, and acting on their expertise speaks volumes. Keeping progress reports in front of staff and spotlighting exactly how their work has impacted change is empowering.
Champions emerge.
While educating and encouraging staff may be intense at first, Champions step forward to assist in advancing the message that we can all be excellent patient safety advocates!
Need More Help?
American Data Network offers a variety of Patient Safety, Data Analytics and Data Abstraction products and services.
Products Include:
About American Data Network
For more than 24 years, American Data Network (ADN), which is also the parent company to its Patient Safety Organization (ADNPSO), has worked with large data sets from various sources, aggregating and mining data to identify patterns, trends and priorities within the clinical, financial, quality and patient safety arenas.3 ADN developed the Patient Safety Incident Reporting (QAC) application, with which hospitals, clinics, rehabs, and other providers record and manage patient safety events. By entering events into ADN's QAC application and submitting them to the PSO, information is federally protected and thereby privileged and confidential. These protections provide a safe harbor to learn from mistakes and improve patient safety.