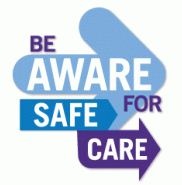 With Patient Safety Awareness Week in full swing nationwide, the Agency for Healthcare Research and Quality has introduced several new tools to help generate better outcomes for patients in hospital and clinical settings.
AHRQ developed the Medications at Transitions and Clinical Handoffs Toolkit to help reduce the number of adverse drug events occurring in hospitals. The MATCH Toolkit, which includes a corresponding workbook, provides suggestions for improving medication reconciliation at every step in the process, from obtaining support from hospital leadership, to planning, testing, implementation and finally, evaluation.
A second initiative introduced by AHRQ this week, Questions Are the Answer, is a public education program designed to empower patients and clinicians to engage in effective, two-way communication. As part of this initiative, AHRQ has developed several tools for providers to use with their patients:
A seven-minute video, perfect for patient waiting rooms, presents a series of first-hand testimonies from clinicians and patients as to the importance of asking questions and sharing information during medical visits.
AHRQ's new brochure Be More Involved in Your Health Care: Tips for Patients offers suggestions for patients to consider before, during and after medical visits.
Question Builder is an interactive application that assists patients in formulating personalized lists of questions based on specific health needs.
Notepads are handy for jotting down the top three questions that patients want to be sure to ask during appointments with doctors or clinicians.
To request free copies of AHRQ's "Questions Are the Answer" video, brochure or notepads, please email AHRQpubs@ahrq.hhs.gov or call 1-800–358–9295 and include the following reference numbers: DVD (AHRQ Pub. No. 10-(12)-0094-DVD); brochure (AHRQ Pub. No. 10(11)-0094-A; notepad (AHRQ Pub. No. 10(11)-0094-1).